Composers
The programs draw from the vast resources of music by African American composers. Represented are men and women who were among the first to pursue formal educations in the field of composition — William Grant Still and Florence Price, to name two — right up through the first decade of the 21st century to our own time, including composers who have written expressly for these concerts — Dr. Valerie Capers, John Robinson III, and Joshua McGhee. To date, music by over 40 outstanding composers has been performed. Though for the most part previously unknown to the performers and their audience members alike, these composers, their music and their life stories are taking their place in the story of great American musical achievement.
A unique feature of the programs is the wide-ranging variety of styles and genres represented (click for list):
Whether a composition is a setting of a spiritual or folk song, a piece based directly on jazz, blues, or gospel, an abstract song or instrumental piece, underlying the music of all the composers represented is a melding of rich and powerful elements into stirring musical language and masterfully crafted form.
Click here to view complete list of compositions performed, video links, and information on obtaining scores
Joshua McGhee discusses his work: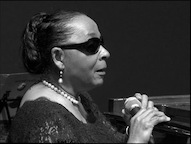 Composer Valerie Capers discusses her work:
Further reading (bibliography)